At the start of 2020, a little under 5 % of Americans spent more than half their week working remotely. Within just six months, it was 42 % working full-time from home. It's a statistic largely repeated globally and reveals just how deeply and quickly the way people work has changed. Major tech firms such as Microsoft, Twitter, and Facebook are already leading the way, having all announced that their global employees can continue to work remotely if they so choose.
"Change predicted to take five years has happened in five months," says Nicole Alvino, co-founder and chief strategy officer at US technology firm SocialChorus. "What was thought to be a short-term aberration is clearly going to be much longer-lasting."
Universally, this means human resources directors are now worrying about everything from how they maintain their carefully crafted cultures, how learning and career development happens, and what wellbeing issues ensue. But added to these are what many may feel are lesser issues, yet they are actually just as important, such as the compliance-based complications that having a more disparate workforce entails.
This includes the rights businesses might have to monitor staff performance in people's homes, what rules apply around data handling and the way firms might consider how national employment law applies to their once congregated workforce. If an employee lives in the European Economic Area but decides to move out, even just temporarily, any movement of personal data will trigger individual nation-state rules about cross-border data transfer and whether the host country has adequate levels of protection.
In terms of movement, European Union workers still have the right to work anywhere in the EU, while there is emerging legislation enshrining workers' rights to be able to work from home. In October 2020, Germany proposed a Mobile Work Act, giving staff a legal right to work from home should they wish, though it is thought unlikely that it will become law.
Remote workers' rights in Russia
Meanwhile, in Russia, amendments to the Labour Code of the Russian Federation came into force in January 2021. Not only do these provide for employees to work remotely on a permanent basis, but they also remove the requirement for staff to confirm their place of work. However, employees settling in a new country to work will still cause issues.
Those working overseas are likely to trigger local employment protections, in essence the same safeguards as other workers in the employee's host country. This adds potential complications about a worker's tax status – host countries typically have first tax rights over the employment income an employee earns while physically working in that country – but also complications should there be a need for dismissal.
Caroline Leroy, chief people and fulfillment officer at software company PayFit, which employs 400 workers in France, Germany, Spain, and the UK, and moved to a permanent work-from-anywhere policy this year, deals with such issues. "We've asked any employee wanting to work remotely not to do so for more than six months, as it impacts their residency and tax status," she says. "We've also decided to limit any people moving permanently to a different country to just senior level directors only, as otherwise salary issues would start arising; typically, for instance, people in Germany are paid more than in Spain."
Nicola Downing, chief operating officer at Ricoh Europe, says the challenge of having 15,000 remote staff across 23 countries means her human resources teams are "flat out to respond to local legislation and guidelines, which vary significantly from country to country". She adds: "On top of that, there are considerations around data: how people access this in their markets, the implications of legislation such as the General Data Protection Regulation in Europe and security around a largely remote workforce."
But even though Ricoh finds only 29 % of staff report being more stressed, and Leroy says 59 % say they would prefer to work in a remote-first company, Rocio Carracedo Lopez, international employment law editor at XpertHR, warns organisations managing basic employee status and data issues to face other challenges. "Monitoring will be the big story still to come," argues global human resources analyst Josh Bersin, echoing results from Ius Laboris research that 49 % of employers said managing and monitoring employee performance is the number-one challenge of increased remote working.
"Most people underperform when over scrutinised, but remote working will increase scrutiny," says Bersin. According to a recent study by 451 Research, a division of S&P Global Market Intelligence, 35 % of workers globally said they felt more productive, but not more engaged, with most (55 %) saying they were both less productive and less engaged working from home.
Firms will need to tackle this. Of course, with all challenges come opportunities. For many, remote working is a boon to instill and embed new, progressive ways of working. Eric Hosey, head of human resources at search engine optimisation specialist firm SEMrush, which operates in the United States and Russia, says: "Because we are remote, we're doing things more deliberately, like setting up more mentoring and doing what we're calling 'sprint agile' processes, and more discussions around objectives and goals."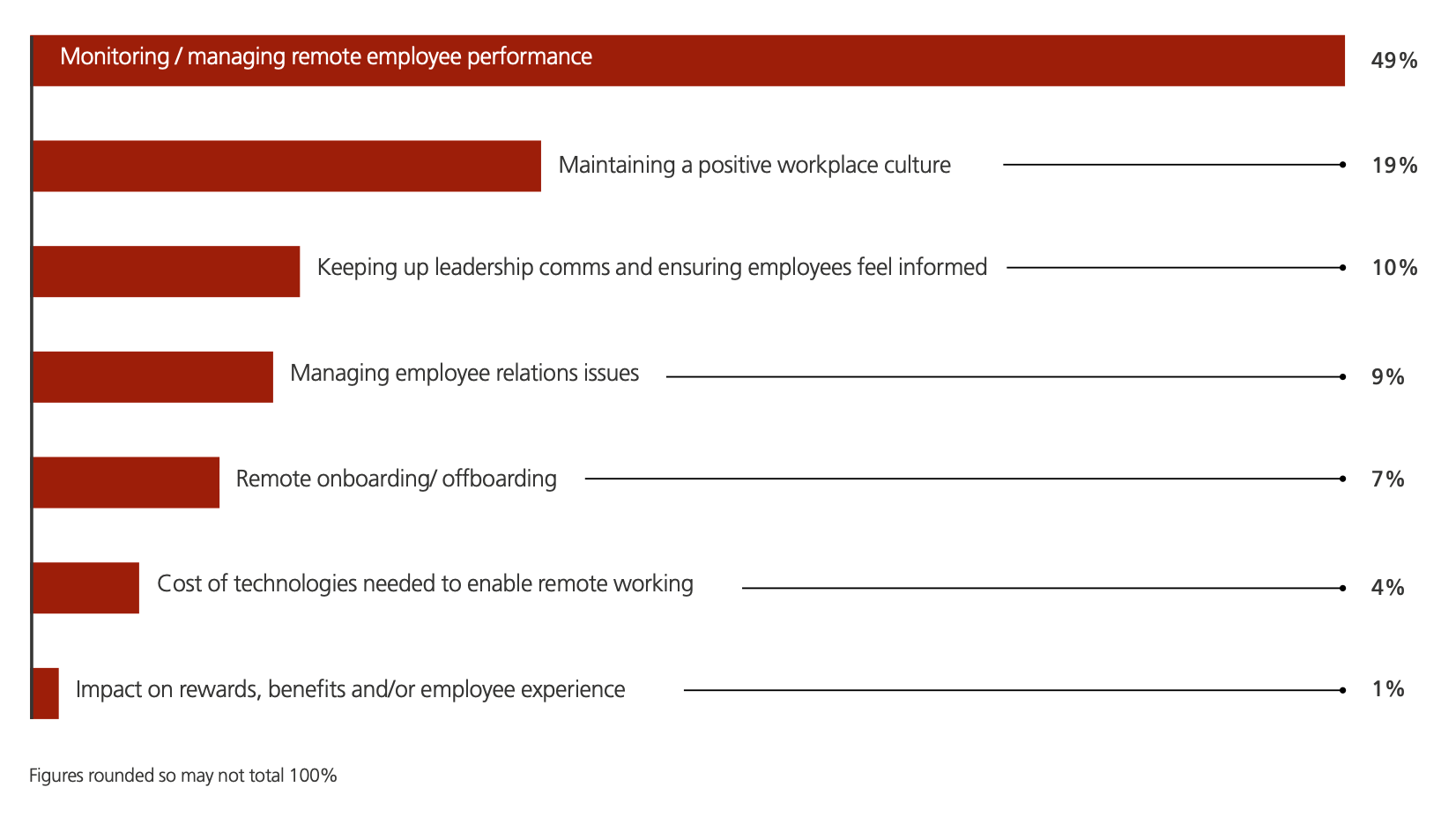 Easing pressure on people who don't like offices
Data suggests remote working could rapidly boost organisational diversity, by opening up roles to people who are neurodiverse or disabled and those who might otherwise find working in an office difficult.
Remote working means digital transformation is happening faster too, which is equipping individuals with the skills they will need more of in the future. Dr Gabriela Whitehead, head of digital transformation and process management at GISMA Business School, says: "Changing to remote working requires effort to understand and to adapt to new technological requirements."
With remote working or, at the very minimum, hybrid working looking ever more likely to become the norm, the need for companies to define their standards and work to international rules will clearly expand. PayFit's Leroy concludes: "Remote working needn't ruin organisations. If you give staff freedom to frame their own new culture and their place in it, it works. Get the legal issues done and it's a new way of working together, which can be a whole new positive experience."