Innovation launch pad
Research conducted for The Word reveals that 33 per cent of businesses claim the coronavirus pandemic has harmed their diversity and inclusion activity, with 30 per cent suggesting it will make it harder to enact and push through D&I initiatives. But the experience of the pandemic differs hugely between businesses of varying sizes and in different countries around the world, outlined in our case studies featuring a startup, small to medium-sized enterprise (SME), and large organisation in Portugal, Singapore and the United States, respectively.
For example, the D&I efforts of US-based energy provider DTE Energy, employing 10,400 people, are flourishing as a result of the pandemic. This aligns with our research findings, which suggest the D&I efforts of larger firms are more likely to have benefited as a result of the COVID-19 crisis compared to smaller organisations, with 26 per cent of respondents from firms with 10,000-plus employees seeing this positive impact. Meanwhile, the pandemic has made life especially difficult for Portugal-based social technology startup SPEAK, which aims to support social integration by connecting local residents with newcomers through language and cultural exchange programmes: a tall order in this new online world.
Such challenges are also echoed in our research, which found 29 per cent of respondents from firms with fewer than 500 employees believe COVID-19 has harmed their D&I initiatives. For others, the pandemic has presented an opportunity to embrace innovation and rethink core practices. Such is the case at Singapore-based Vanda Electrics, whose chief executive Larissa Tan attributes the firm's ongoing survival and success to its innovative and diverse approach to talent management, proving D&I can be a valuable tool in helping businesses to survive and thrive in the current economic climate.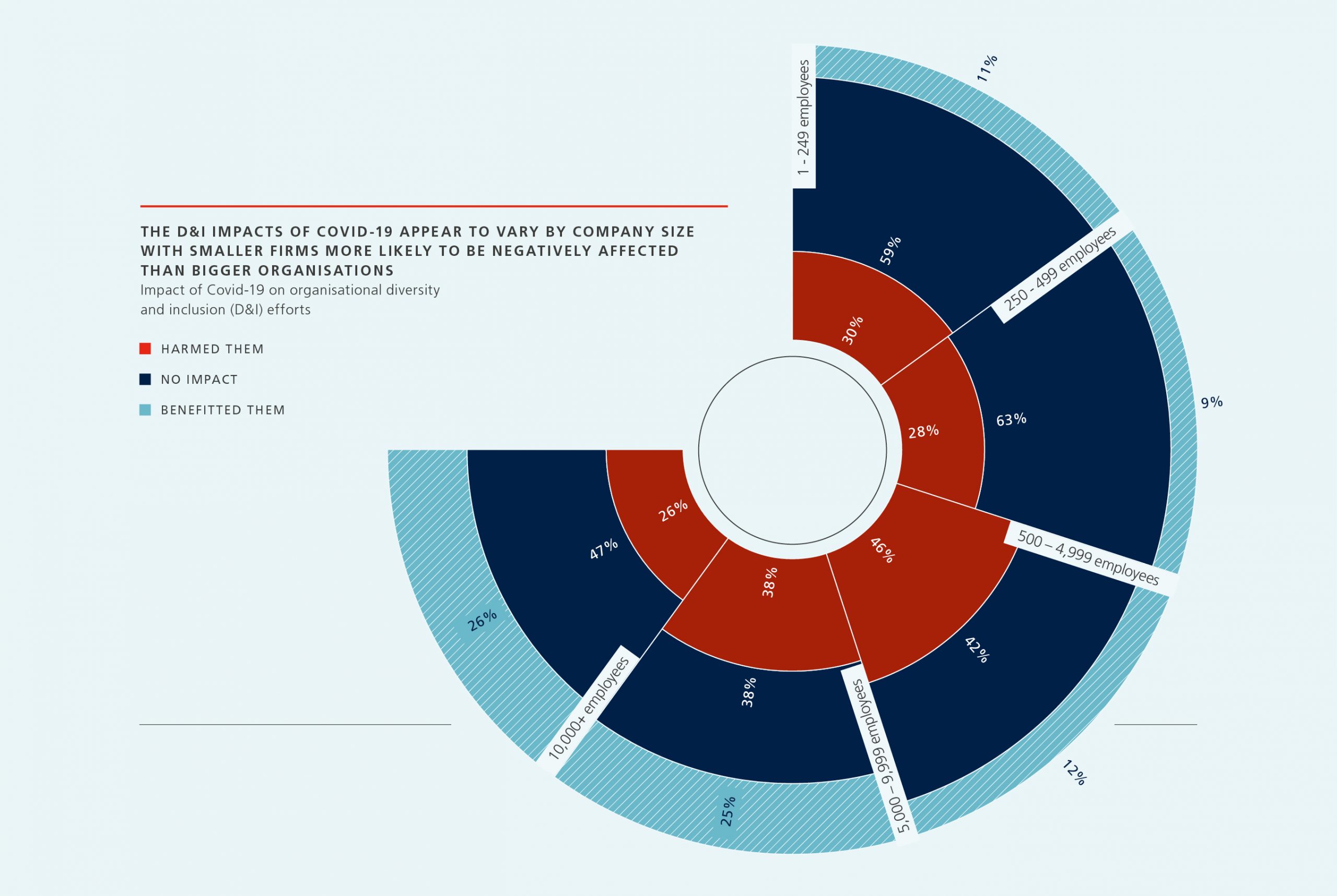 Case study (Portugal) - the startup
Social technology startup SPEAK was founded to connect migrants, refugees and local residents through a community-led language and cultural exchange programme, and so diversity and inclusion are embedded in everything this Portuguese organisation does.
"It's basically our mission: connecting people and contributing to inclusive cities where everyone feels at home," explains Mariana Vieira da Rocha, cofounder of SPEAK London, one of a number of the organisation's franchises around the world.
Clear communication is key to ensuring members of the community feel included and, ultimately, the success of the business, particularly during the coronavirus pandemic. "When you work with people from all over the world, there will be communication barriers at certain points, and I think the way we try to overcome this is by being as accepting and as open-minded as possible," says Vieira da Rocha. "I think it's about people having a sense of belonging, which I think is so alien these days." It has inevitably been difficult for the business to create this sense of belonging during the pandemic. "It was a big challenge because realistically it's really difficult to create a sense of community and belonging when you're online; it's simply not the same.
There's also the challenge of when you work with someone in helping them with a new language, you get the cues from body language. We had to adapt every single resource in every single language that we have," she says. Community feedback has been key to helping the business evolve to this New Normal.
Vieira da Rocha says: "We constantly asked for feedback from everyone, from the participants to the volunteers and the co-founders. I think if I ever create another business, and if there's any advice I would give, it's that learning from your community and making it as diverse as possible is key because they will give you solutions you've never thought about."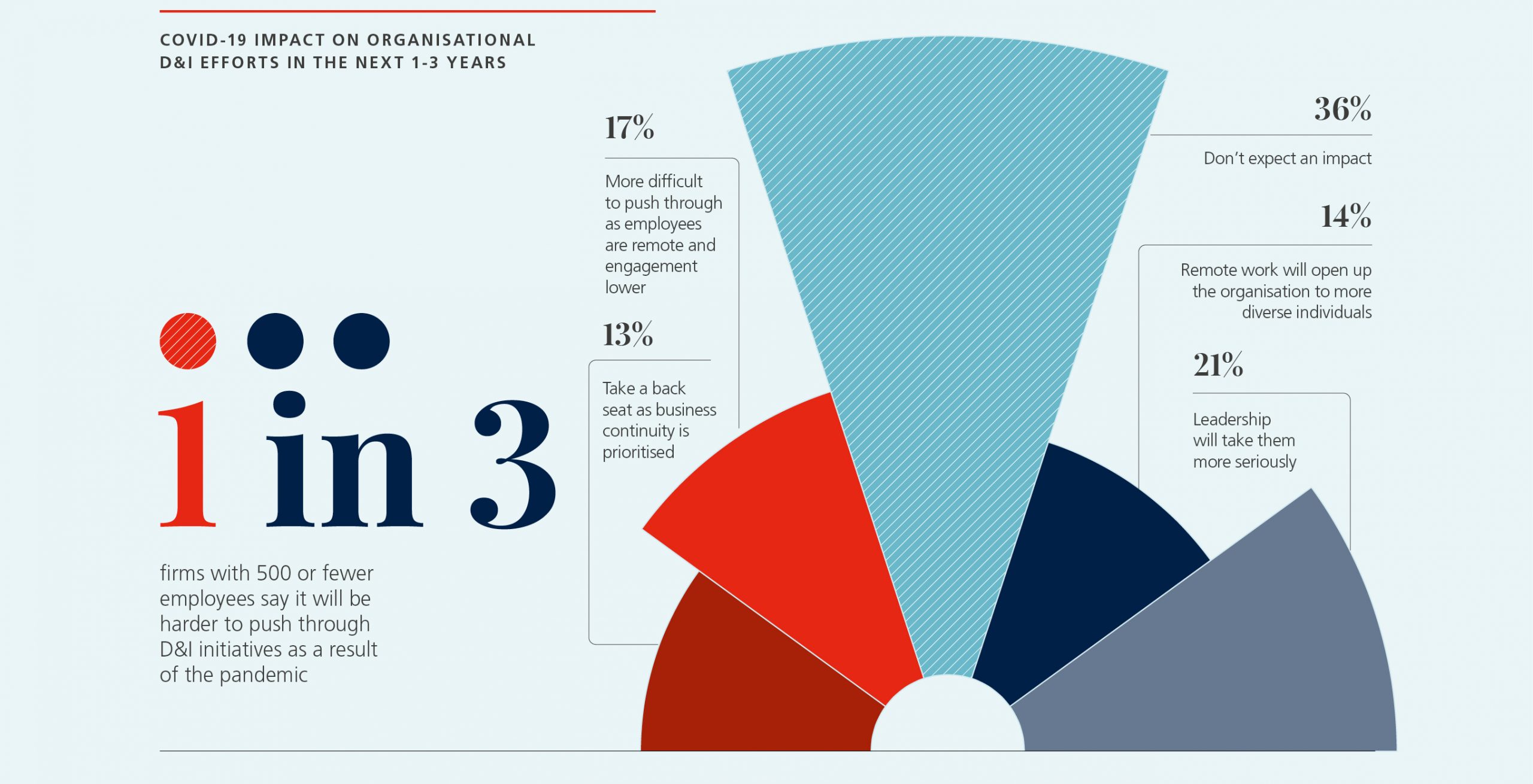 Case study ( Singapore) - the SME
Diversity and inclusion is a way of life, rather than a written policy, for Vanda Electrics and its approach to talent management, according to chief executive Larissa Tan. She explains: "It's always something that's on our mind.
It factors into the way we hire, but rather than looking at hiring specific types of people, we don't have a limit for whether they are male, female or different races; we hire the best people for the job. You can be diverse in terms of numbers and in terms of who you hire, but diversity doesn't necessarily mean inclusion." For Tan, D&I should be more about a mindset than a tick-box exercise.
"We are in an era now where things are constantly changing; everything's being disrupted and therefore you can't hire in the same way," she says. "Unfortunately, the human resources process hasn't changed very much and the mindset in terms of who businesses hire to do that job hasn't changed. If that doesn't start to change, then you're going to end up with the same types of people, regardless of where they come from, whether they're male or female or what their race or religion is. You need people who are really, really different and you need to go out and find them."
The company's approach to its electric moped Motochim is a case in point. The design of the bike is based on a sketch by a ten-year-old girl with special needs who Tan met when working in the community on another project. "She's very talented artistically and in terms of certain aspects of looking at design," says Tan, who works with 20 employees in Singapore together with partners around the world. "This approach gives you greater ideas and more leeway for innovative thoughts. It also fosters a lot of understanding because people are not from the same background."
Case study (US) - the larger enterprise
Diversity and inclusion are at the heart of DTE Energy's business strategy. The Detroit, Michiganbased energy company's commitment to supporting its local community during the pandemic is perhaps the best example of inclusion excellence. With the help of $150,000 in grants from the DTE Energy Foundation, which funds Michiganfocused giving across arts and culture, community transformation, economic progress, education and employment, environment and human needs, the business donated more than two million face masks.
It also funded technology for Detroit students and provided meals, energy assistance and resources to help support the local community. In addition, 17,541 DTE volunteers called elderly local residents to wish them a happy holiday in the run-up to the festive period, while others handed out meals in 27 cities on Christmas Day. The efforts are part and parcel of the organisation's commitment to closing social and economic inequity gaps.
"The more we work to build equity and stand up for human rights, the stronger we'll become," says Diane Antishin, DTE's vice president of human resources and chief diversity, equity and inclusion officer. "We're hopeful that together we can be a beacon of progress and build a more equitable future for all people." With that in mind, the business runs a wide range of D&I initiatives, from a programme that provides internships for high school students and graduates from challenging backgrounds to eight employee-led Energy Groups, which create an opportunity for under-represented groups within the company to have a voice.
DTE is also committed to supplier diversity, with the business having invested $600 million with certified minority and women suppliers in 2019. "When we build up minority businesses, we also build the capacity for economic growth and revitalisation," says Tony Tomczak, DTE Energy's chief procurement officer.